‹ Back to list
Cambridge – the Home of Sab
Cambridge is still one of the best places to live in the UK...
Landlords, Tips - 25 July 2019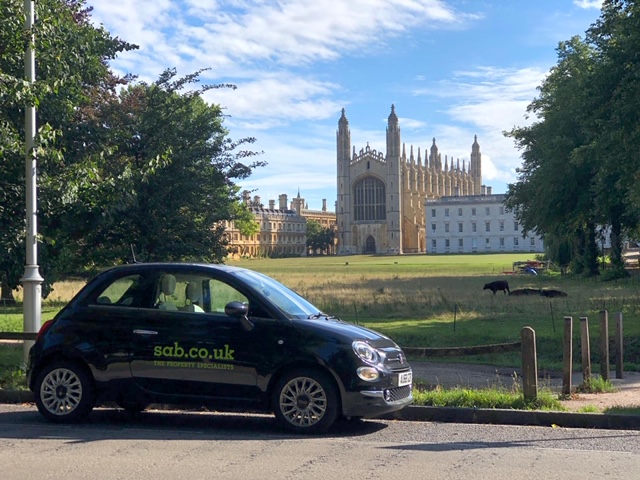 Cambridge is still one of the best places to live in the UK
Featuring many times in the top 20 places to live in the UK, and 3rd best place to live as voted by The Sunday Times in 2017, Cambridge is undeniably a lovely city to live in. You can go from cultural colleges and lively pubs to countryside in minutes (on foot too!). There's plenty of green spaces in the centre of the city, including Jesus Green with it's outdoor pool (one of the longest in the UK) and the University Botanic Gardens.
Where it all began.
Sab was established in Cambridge, 60 years ago this year. In that time we've seen a lot of changes in the city and surrounding villages. Some things have remained constant however; such as Cambridge's draw as a tourist hot spot, great schools, buoyant jobs market and abundant green spaces.
Renting in Cambridge
There is no shortage of fantastic rental options in Cambridge and the surrounding villages. One bonus of having a partially transient population (students, vising academics etc), is that great new accommodation options are always appearing on the market throughout the year. If you're considering commuting to London, rent in Cambridge is generally much less expensive even with the cost of commuting taken into account.
Buying in Cambridge
Cambridge's close proximity to London (less than an hour to Kings Cross) combined with its position as a leading centre for research, development and technology, with over 4500 high-tech firms in the city including Microsoft, ARM and Raspberry Pi to name just a few, means that houses in Cambridge are always in demand. Recently, a number of pharmaceutical companies have chosen Cambridge as their hub which has resulted in a boost to an already good jobs market in the area. House prices in Cambridge have always been, and will most likely remain, well above the national average. However, when you consider the lifestyle that living in and around Cambridge can give you, we think it is well worth it; the rich and iconic history, beautiful green spaces, and an exciting emerging food scene, and if you are wondering about schools, Cambridge is home to some top private schools as well as some high performing state schools.
Investing in Cambridge
Is Cambridge a good place to invest in property? In short yes, tenants tend to stay on average 19 months and demand for properties is set to remain high, so it is unlikely a property would sit empty for any length of time. 1 & 2 bedroom properties in particular throughout the area make the better investments with yields of roughly 3.5%. Investing in property is considered one of the least risky forms of investment, especially long-term. we believe Cambridge is a great city to invest in.
However you chose to engage in Cambridge life, be it as a temporary renting option, somewhere to set up a family home, or a place to invest money for a guaranteed financial investment, we know you will be as enamoured with Cambridge as we are!
The team at Sab have decades of experience in all areas of the property market in Cambridge. If you are looking for a property to rent, buy or as an investment, get in touch with us on 01223 352170 or email cambridge@sab.co.uk